Mark Jolly is founder and editor of globorati.com, a brilliant online resource for globetrotting travellers who have expectations that go somewhat beyond those of your average backpack-toting wanderer. This luxury-travel newsfeed reports on upcoming travel trends and cutting-edge hotel design, covering topics from glamping in the Golden Triangle to Mongolia's manliest man contest (I've got my ticket already. Actually it's in the same place as the Mongol Rally finish line, where Smith's very own Team Clouseau gamely/foolishly took a 2CV last year. But I digress).
Mr & Mrs Smith caught up with Mr Jolly himself last week to quiz him on all things wide-spread and wonderful…
So, Mark, tell us how globorati.com came into being – why did you start it?
Before globorati.com, upscale travellers had literally nowhere to get a daily scoop on the world's hottest new hotels and travel experiences. I still wear my contributing-editor cap for Condé Nast Traveler (US), and I love diving deep into a destination and writing big feature stories, but the fact is, it's a monthly magazine. The world of luxury travel moves faster than that and so I wanted to find a voice that spoke to those travellers who are looking for the latest and the greatest trips from a credible source.
Those three-month print lead times for the monthly glossies do kill the spontaneity somewhat… Ok, let's put your trend-radar to the test: give us your travel-trend predictions for 2009. We're guessing we might hear the words 'credit crunch' in there…
The growth of green travel and the rising cost of air travel will be even bigger stories in 2009. But what's interesting is how these two factors have sparked the romance of train travel again. The Eurostar has dramatically reversed the air-domination of journeying from London to Paris. And just look at Spain: the new high-speed train from Madrid to Barcelona has already stolen one-fifth of Iberia's business.

In the luxe market, we're seeing more and more one-of-a-kind train journeys — often billed as overland "cruises" — which pile on the pampering and customized services but without the guilt of long-haul air travel. This includes the new Danube Express, the Great Brazil Express (Brazil's first ever luxury train), and Australia's coast-to-coast Platinum service on Great Southern Rail.
We love train travel at Smith – especially since so there are so many fantastic Smith hotels accessible by Eurostar or TGV connections. Actually I'd love to replicate the old Orient-Express route from London to Istanbul by train; apparently it's a corker of a journey. Although I wouldn't say no to a bit of Great Brazil Express action either – double beds and 24-hour room service in your berth? Now you're talking!
On the subject of all-out spoiling and ultra-luxurious travel, what's the most outrageous luxury travel story you've reported on the site?
Most of what globorati covers is focused on useful, up-to-the-moment stories that capture the thrill and beauty of travel. But every now and again we'll run something on a big-ticket, through-the-roof, ultra-luxe experience. The sort of stuff I call "sick travel" — stuff like a $700 breakfast at the new Ritz-Carlton Moscow, or a $30,000 private-jet expedition to Antarctica, or a $50,000 one-night package at the Four Seasons Miami (the massage uses lotion infused with ground diamonds). The other day, we ran a story on a $1 million vacation to Dubai.
And there was that piece in The Times the other day about a couple spending £15,000 a night to stay in the suite on the bridge linking the two halves of the usually sane Sol Kerzner's crazy Atlantis-themed Palm Island hotel project. That's B&B though, so at least they saved on croissant costs, eh? Somewhere else I saw a story about the Bottler, a centrifugally weighted (gimballed) gold-plated champagne holder for keeping your bubbly upright aboard your posh yacht – one guy's having his covered in crystals too, as if a gold gizmo wasn't enough. Hotel-meal treats in such places – afternoon tea at Dubai's seven-star Burj al Arab for example – don't exactly come cheap, either. Now Abu Dhabi's Emirates Palace hotel is muscling in on the act, offering a seven-day holiday that costs – to borrow Dr Evil's vernacular – one million dollars! Crazy. Or rather, 'sick', as you put it.

Assuming it's not Atlantis or the Emirates Palace, then, what's your favourite hotel, and why?
I fall in love with different hotels for different reasons. I recently stayed at Hotel Caruso in Ravello. Even by Orient-Express standards — they're the owners — there's something special about this place. It's an 11th-century villa whose guestbook includes the names of Humphrey Bogart, Jackie Kennedy and Graham Greene. It's got the most photogenic infinity pool hanging over the Salerno hills. And the whole place smells so damn good — our private terrace was stuffed with jasmine and white roses.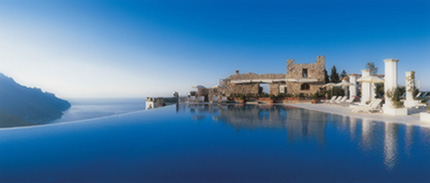 Mm, that must have had an amazing scent… really seductive. And that infinity pool – what views! What's the most romantic place you've ever been?
Actually, if you know a more romantic town than Ravello, I'd love to know where it is. It's the only genuine jewel-box on the Amalfi Coast — set back from the coastal road, and away from the circus that swarms Amalfi and Positano. Ravello must be sprinkled with some sort of fairy dust – it's a compact, quiet medieval town, blessed with some of the most stunning cliffside gardens you'll ever see. Oh, yes, and it has the Hotel Caruso!
We visited Ravello once during a stay in Sorrento – it's an amazing place. Describe your perfect weekend away – where do you go, what do you do when you get there?
Formentera is my favorite island in the Mediterranean — it's dislocated from the Spanish mainland, with no airport (you must take a boat from Ibiza), and not a single traffic light anywhere. The powder-white sands and crystalline sea make me feel like I'm in the Caribbean — minus the masses. It's magnificent for beach and village-hopping by scooter — and if you recognize the rugged unspoilt land it's because you may have seen it in the movie Sex and Lucia.
What about your own corner of the world: where do you live?
I'm a product of English-Iranian parents, and I now divide my time between three cities — Valencia, London and New York. Valencia's Mercado Central is a five minute walk from my house in the historic centre (Barrio del Carmen), and it's the most exquisite food hall in Spain (sorry, Barcelona, but that includes the Boqueria). It's the first place I'd take a visitor to the city: It's this magical modernista nexus loved by locals and visitors in equal measure. And its' two-year restoration is nearly complete.
Anything that combines eating and shopping is alright by us! Thanks so much for chatting to us Mark – look forward to reading about the next big travel things on globorati.com!